Who Owns Tesla? Is It Just Elon Musk?
Tesla, Inc, founded in 2003 by Marc Tarpenning and Martin Eberhard as Tesla Motors, is not only an electric vehicle company, but also a clean energy company whose name is a tribute to Nikola Tesla, a Serbian and American inventor and electrical engineer. 
The frontman of Tesla, Inc. is Elon Musk, a charismatic and tenacious leader who greatly contributed to Tesla's success, joining Tesla Motors as chairman and product architect in 2004 and finally becoming its CEO in 2008. Under the leadership of Elon Musk, Tesla has been brought to the forefront of the electric automotive industry, standing in the first position of 2020 as the largest and best-known electric vehicle manufacturer, with 28% of the market share. 
However, the question is: who owns Tesla? Is it just Elon Musk?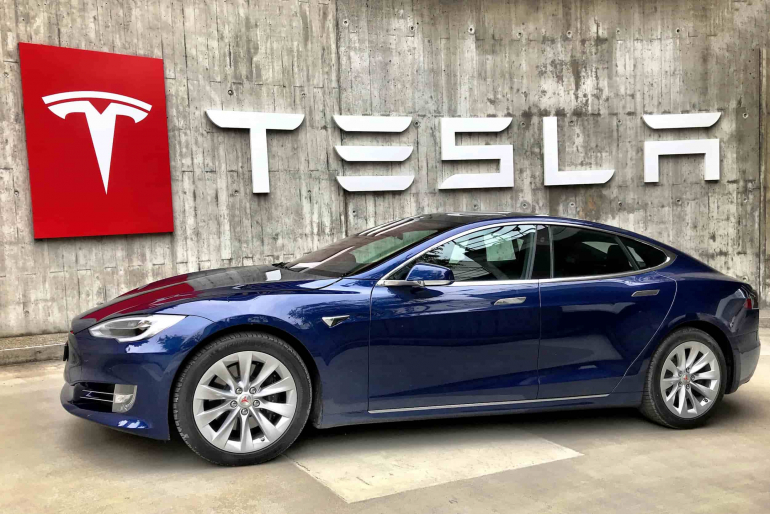 Back to top
Top Shareholders of Tesla in 2020
Generating revenue of $31.536 billion in 2020 and 70,757 employees, Tesla designs, develops, sells, and leases not only fully electric cars but also energy generation and storage systems, including solar panels, solar roof tiles and battery energy storage. Additionally, the company offers services connected with its sustainable energy products, according to Form 10-K. 
Tesla's 12-month gross profit and income from operations are $6,630 billion and $1,994 billion, respectively. As of December 31, 2020, the company's market capitalization was $668.90 billion. 
Let's dive into the Tesla data, analyzing the top shareholders of Tesla based on the ownership of Tesla's common stock, as of December 31, 2020. All data are taken from Amendment No. 1 to Form 10-K/A, filed to the US Securities and Exchange Commission.  
The top shareholders of Tesla are Elon Musk, The Vanguard Group, BlackRock Inc. (BLK), Capital Ventures International, and Executive Officers & Directors. 
Back to top
Institutional Shareholders
The Vanguard Group
The Vanguard Group, Inc. owns a total of 57,814,310 Tesla shares, representing 6% of the company's total shares outstanding, making it the second shareowner of Tesla. The Vanguard Group is one of the world's largest investment companies. Along with BlackRock and State Street, it is recognized as one of the Big Three index fund managers operating in the American market. As of January 31, 2021, Vanguard is the key provider of mutual funds and exchange-traded funds (ETFs) with about $7.2 trillion in assets under management. The investment company also offers brokerage services, financial planning, trust, asset management, and educational account services. John C. Bogle, founder and former chairman of Vanguard, enabled low-cost investing by creating the first index fund available to individual investors. 
Blackrock
BlackRock, Inc. owns 50,080,396 shares of Tesla with sole dispositive power, representing 5.2% of total shares outstanding and 43,700,653 shares with sole voting power, according to Tesla's 10K filing for the period ending December 31, 2020. Based in New York City, BlackRock is a global investment management corporation, providing clients with asset management services. With a record $9 trillion of assets under management in the first quarter of 2021, the company is the world's largest asset manager, operating globally with 70 offices in 38 countries. Founder, Chairman, and Chief Executive Officer of BlackRock is Laurence D. Fink, who founded BlackRock in 1988, together with seven partners.
Capital Ventures International
Capital Ventures International owns 49,569,773 shares of Tesla, representing 5.2% of total shares outstanding, including 187,272 shares beneficially owned by Capital Ventures International, 45,106,707 shares beneficially owned by Susquehanna Securities, LLC, 4,261,126 shares beneficially owned by Susquehanna Investment Group, and 14,668 shares beneficially owned by Darby Financial Products. 
Since Susquehanna Advisors Group, Inc. is the investment manager to Capital Ventures International, it may beneficially own the shares owned by Capital Ventures International. The Capital Ventures Group consists of Capital Ventures International, Darby Financial Products, Susquehanna Advisors Group, Inc., and two affiliated independent broker-dealers: Susquehanna Investment Group and Susquehanna Securities, LLC. Susquehanna Securities offers institutional brokerage services including quantitative research, trading, and fundamental research.
Back to top
Individual Shareholders: Executive Officers and Directors
Except for Elon Musk, 11 individual shareholders together own 21,119,211 shares of Tesla, representing 1.9% of total shares outstanding. The second-biggest individual shareholder is Lawrence J. Ellison, who owns 15,186,807 shares which makes 1.6%. 
Elon Musk
Elon Musk owns a total of 227,131,935 Tesla shares, representing 22.4% of the company's total shares outstanding, making him the largest share owner of Tesla. He has been a Chief Executive Officer of Tesla since 2008. Born and raised in Pretoria, South Africa, Elon Musk is also the founder, CEO, and Chief Engineer at SpaceX; co-founder of Neuralink and OpenAI, and founder of The Boring Company. As of June 1, 2021, Musk's net worth is $172 billion, making him a centibillionaire and one of the richest people in the world. Surprisingly, due to cash shortages, Musk has pledged more than half his stake in Tesla as collateral for personal loans to pursue his ambitious plans. 
"Elon Musk is working to revolutionize transportation both on Earth, through electric car maker Tesla -- and in space, via rocket producer SpaceX," according to Forbes. 
Born in South Africa, Elon Musk moved to Canada when he was 17 and then to the US where he earned a bachelor's degree in physics and economics from the University of Pennsylvania. In 1995, he moved to California. With his brother Kimbal and Greg Kouri, he co-founded the web software company Zip2, providing and licensing online city guide software to newspapers. The company was taken over by Compaq for $307 million in 1999. At the age of 28, Elon Musk became a millionaire. That same year he co-founded an online bank X.com which merged with Confinity Inc. and changed its name to PayPal, acquired by eBay for $1.5 billion in 2002. 
After becoming a millionaire, Elon Musk decided to pursue a much grander goal, namely, to revolutionize transportation in space. With this groundbreaking goal in mind, Elon Musk founded SpaceX which is an aerospace manufacturer, space transportation services, and communications company. Founded in 2002, the company is to change the way people travel in space and eventually enable Mars colonization. 
As if this wasn't difficult enough, Musk decided to revolutionize transportation on Earth by investing in electric vehicle manufacturer Tesla Motors, Inc. He joined the company as a product architect and chairman in 2004 and became its Chief Executive Officer in 2008. Under his unconventional leadership, Tesla has become one of the most world-renowned companies in the world and Tesla's stock price (TSLA) reached $644.65 as of this writing.      
Lawrence J. Ellison
Lawrence Joseph Ellison, who joined Tesla's board in December 2018, owns a total of 15,186,807 Tesla shares, representing 1.6% of the company's total shares outstanding, which makes him the second-largest individual investor. 
He is chairman, chief technology officer (CTO), and co-founder of Oracle Corporation, of which he owns 39.5%. Founding the company in 1977, he served as its CEO until 2014. As of 2020, Oracle Corporation which builds the first commercially viable relational database was the second-largest software company in the world by market capitalization and revenue. Headquartered in Austin, Texas, the company has changed how businesses communicate externally with customers. It powers business-to-business and administrative systems by selling database software and technology, enterprise software products, and cloud engineered systems. 
Since 2012, Ellison has become an owner of 98% of the Hawaiian island of Lanai while the remaining 2% of the island is owned by the State of Hawaii. Although the price wasn't made public, the billionaire reportedly paid $500 million for the island.
According to Bloomberg Billionaires Index, Lawrence Ellison was listed as the tenth-richest person in the world as of July 2021, with a $98.6 billion total net worth. Apart from being a very charismatic leader, he is not only an avid pilot and sailor but also a chess and tennis player.
Antonio Gracias 
Antonio Gracias owns 1,738,393 shares which makes him the third-largest individual Tesla investor. Antonio J. Gracias is an Independent Director at Tesla, Inc., a Chief Executive Officer & Chief Investment Officer at Valor Management LLC, a Founder, Chief Executive & Investment Officer at Valor Management Corp., an Independent Director at Harmony Biosciences Holdings, Inc., a Chairman-Supervisory Board at Philogeris Régions SAS and a Member at The Commercial Club of Chicago. With over 20 years of experience in private equity investing under his belt, Antonio is a Director of several Valor portfolio companies and a member of all Valor Investment Committees.
Ira Ehrenpreis 
Ira Ehrenpreis is an Independent Director, Chair of the Compensation Committee, and Chair of the Nominating and Governance Committee at Tesla, owning 817,706 shares. He is also the founder and man­ag­ing part­ner of DBL Part­ners which is an investment venture focused on companies delivering not only top-ranked venture capital returns but also positive social, economic and environmental benefits.
As an established leader in both the ven­ture cap­i­tal indus­try and the energy inno­va­tion sec­tor, Ira led Tech­nol­ogy Part­ners' ven­ture prac­tice invest­ing in energy inno­va­tion opportunities for many years and has served on the board and exec­u­tive com­mit­tee of the National Ven­ture Cap­i­tal Asso­ci­a­tion (NVCA). Named one of the "Top 50 Most Influential Men Under 45" in 2007, Ira also serves both as the pres­i­dent of the West­ern Asso­ci­a­tion of Ven­ture Cap­i­tal­ists (WAVC) and the co-chairman of the VCNet­work which is the largest Cal­i­for­nia ven­ture cap­i­tal organization.
Kimbal Musk
Kimbal Musk, who has been a Tesla board member for almost 17 years, is the owner of nearly 600,000 Tesla shares. On February 9, 2021, he sold 30,000 shares worth $25.6 million.
Born in South Africa, Kimbal is a restaurateur, entrepreneur and chef, and owner of The Kitchen Restaurant Group, based in Colorado with locations all around the US. Kimbal founded this family of restaurants focused on sourcing food from American farmers and serving real food, with Hugo Matheson in 2004.
Elon Musk's brother is also the chairman and co-founder of Big Green, a nonprofit organization with the goal to connect children to real food, and eventually build a healthy future for them by providing a nationwide network of outdoor classrooms named "Learning Gardens".
With his brother Elon, Kimbal Musk co-founded Zip2 in 1995, which was a software company acquired in 1999 by Compaq for $307 million. Currently, he sits not only on the boards of Tesla Inc but also SpaceX. From 2013 to 2019 he was a board member at Chipotle Mexican Grill.
Robyn Denholm
Robyn Denholm is the owner of  728,881 Tesla shares. In 2014, she became a non-executive director of Tesla, Inc and in 2018 she succeeded Elon Musk as chairman of the Board. At Tesla, Inc, she also serves as Financial Expert, Independent Director, Chair of the Audit Committee, Member of the Nominating and Governance Committee, Member of the Compensation Committee, and Chair of the Disclosure Controls Committee. 
Robyn Denholm has built an incredible career in the highly competitive and male-dominated technology industry. From 2017 to 2019, Robyn Denholm worked at Telstra Corporation Limited, Australia's telecommunications, and technology company, serving as Chief Financial Officer, Head of Strategy, and Chief Operations Officer. Prior to Telstra, she joined Juniper Networks, Inc., a manufacturer providing IT networking products, such as switches, routers, and IT security products, serving as Chief Financial Officer, Chief Operations Officer, and Executive Vice President. 
In January 2021, Robyn Denholm became an operating partner at a venture capital firm, Blackbird Ventures.
Prior to Juniper, Robyn Denholm served at Sun Microsystems, Inc., Toyota Motor Corporation Australia, and at Arthur Andersen & Company. She is a member of the Australian Institute of Company Directors and a Fellow of the Institute of Chartered Accountants of Australia/New Zealand. Robyn  Denholm holds not only a bachelor's degree in economics from the University of Sydney but also a master's degree in commerce from the University of New South Wales.  In addition, she received a Doctor of Business Administration (honoris causa) from the latter one. 
Jerome Guillen
Jerome Guillen, Tesla's president of automotive business who was reporting directly to Elon Musk since 2010, was moved into the new role of president of heavy trucking in March this year. After only three months in Tesla's heavy trucking unit, he decided to leave the company on June 3, 2021. Shortly after that he exercised options for 451,118 Tesla shares and sold the underlying shares worth $274.1 million, but he still has 75,780 exercisable options, according to CNBC.
Jerome Guillen is a transport executive specializing in automotive manufacturing. He holds a Bachelor of Science in Mechanical Engineering and Nuclear Engineering from ENSTA and ETSII, respectively. He also holds a Doctor of Engineering from the University of Michigan. He worked for Freightliner Trucks, Daimler AG, and Tesla, Inc. where he worked for ten years between 2010 and 2021, leading both the Tesla Model S and Tesla Semi manufacturing programs.
James Murdoch
James Murdoch, the owner of  434,650 Tesla shares, has been a member of the Board since 2017. In 2019, he founded a private investment company, Lupa Systems, after holding several leadership roles at 21st Century Fox, a media company, for over two decades, including 
Chief Executive Officer from 2015 through the closing of its sale to the Walt Disney Company in 2019.
As a youngster, he dropped out of Harvard University in 1995 as he has felt an entrepreneurial drive. Consequently, he co-founded a hip-hop record label, Rawkus Entertainment, which was bought by Rupert Murdoch one year later and folded into the family empire. 
From 2000 to 2013, James held the role of chairman and chief executive officer for Europe and Asia of News Corporation, which was eventually split into 21st Century Fox and News Corp.
While pursuing a career in media, the son of Rupert Murdoch has developed the sentiment that companies that want to be successful need to make positive contributions to the communities they operate in. In fact, he was engaged in the initiative targeted at energy efficiency which led to a historic achievement of establishing News Corp as the first global media company with net zero carbon emissions.  
Zachary J. Kirkhorn 
Zachary Kirkhorn, the owner of Tesla 410,640 shares, has served as the Chief Financial Officer (CFO) since 2019. After joining Tesla in 2010, he held various finance positions, apart from between 2011 and 2013 during which he attended Harvard Business School to receive an M.B.A in 2013. From 2002 to 2006, Zachary Kirkhorn studied mechanical engineering and applied mechanics at the University of Pennsylvania and economics at The Wharton School.
After graduation in 2006, he held the role of a Senior Business Analyst at McKinsey & Company for almost 3 years and joined Tesla in 2010 as a Senior Analyst in Finance. Four years later, Zachary Kirkhorn pursued his dynamic career at Tesla, being appointed as Director of Finance in 2014 and Vice President of Finance in 2018. In 2019, he replaced Deepak Ahuja as the new Chief Financial Officer at Tesla.  
Andrew Baglino
Andrew Baglino, the owner of 167,365 Tesla shares, joined Tesla in 2006 as an electrical engineer and served in various engineering positions working on motor control firmware and digital test equipment which led to performance improvements on the 2008 Tesla Roadster. 
In addition, Baglino not only designed powertrain control algorithms and the dual motor system for the Tesla Model S but also led the control and electrical side for Tesla grid-tied battery products. This should not come as a surprise, as even as a student of Stanford University, he showed great creativity and inquisitiveness, undertaking research on Hydrogen as a transport fuel.
As his relentless pursuit of innovation and excellence was appreciated by Tesla's top management, Baglino was appointed the Senior Vice President of Powertrain and Energy Engineering in 2019.
Kathleen Wilson-Thompson 
Kathleen Wilson-Thompson, the owner of Tesla's 151,805 shares, was appointed to the board of Tesla in 2018 where she is Independent Director. In addition, she serves on the boards of directors of Wolverine World Wide, Inc. and was with Walgreens Boots Alliance, Inc., a global pharmaceutical company, serving as Senior Vice President, Executive Vice President, and Chief Human Resources Officer. 
From 2005 to 2009, Kathleen Wilson-Thompson held operational and legal positions at the Kellogg Company which is a multinational food manufacturing company, including most recently as its Senior Vice President. She also serves on the boards of directors of Wolverine World Wide, Inc. 
In 1979 Ms. Wilson-Thompson received a B.A. in English Literature from the University of Michigan. In 1982, she also earned a Juris Doctor (J.D.) degree and a master of laws (LL.M.) degree in Corporate and Finance Law from Wayne State University.
Hiromichi Mizuno 
Hiromichi Mizuno is a financial executive and the owner of Tesla's 84,450 shares. Since April 2020, he has become an Independent Member of Tesla's Board of Directors and the Audit Committee.  He pursued his global career in investment and finance, including New York, Silicon Valley, London, Tokyo, and Hong Kong. 
From 2015 to 2020, he served as Chief Investment Officer and Executive Managing Director of the Government Pension Investment Fund, established by the Japanese government. With approximately $1.5 trillion in assets under management, GPIF is the largest public fund investor in the world.  
With many years of experience in finance and a wide understanding of financial markets and economics, Hiromichi Mizuno is a global thought leader in sustainable and responsible investment, challenging many established market practices, including short-selling. Overall, he promotes long-term value creation by corporations, emphasizing the significance of environmental considerations in portfolio management. Currently, he serves as United Nations Special Envoy on Innovative Finance and Sustainable Investments. 
Like our content? Follow BUSINESS POWERHOUSE on LinkedIn, Twitter, Facebook, Instagram, and Pinterest to stay up-to-date on our latest articles. 
Disclaimer: The number of particular shares may vary due to the continuous stock trades. 
Back to top
Author: Justine Ilone Siporski is the founder, CEO and Editor-in-chief of BUSINESS POWERHOUSE, the founder and CEO of LANGUAGE EMPIRE, coach, trainer, investor and columnist dedicated to the advancement of entrepreneurs, investors and the C-suite (CMOs, CEOs, CFOs, CIOs). Her key mission is to support leaders, business professionals and investors in achieving their highest potential, making the right business and investing decisions, and expanding their horizons.